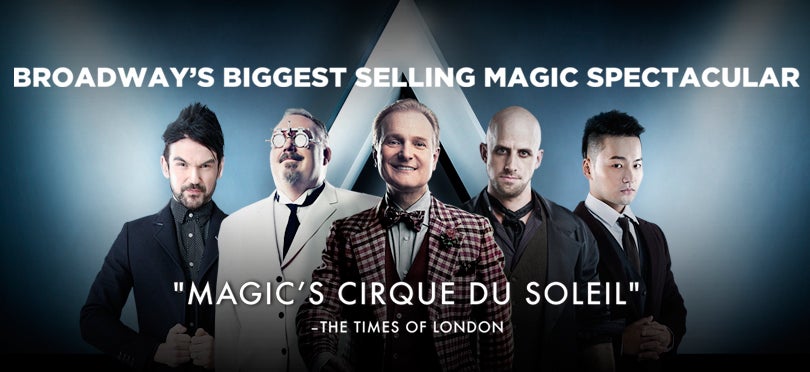 Mar 27, 2018
The Illusionists Live at the Crown Theatre on May 10, 2018!
Fayetteville, NC (March 26, 2018) -- On the heels of a highly successful multi-city tour and run on Broadway, the world's best-selling touring magic show, THE ILLUSIONISTS - LIVE FROM BROADWAY™ (www.theillusionistslive.com), will be performing live at the Crown Theatre for one night only – May 10, 2018. THE ILLUSIONISTS - LIVE FROM BROADWAY™ is produced by Simon Painter, Tim Lawson and MagicSpace Entertainment. Conceived by Simon Painter, the show's creative team also includes executive producer Tim Lawson, director Neil Dorward and creative director Jim Millan.
Tickets go on sale Friday, March 30 and can be purchased online at CapeFearTix.com, by phone at (888) 257-6208, in-person at the Crown Complex Box Office or at the Leisure Travel Office on Fort Bragg.
Full of hilarious magic tricks, death-defying stunts and acts of breathtaking wonder, THE ILLUSIONISTS has shattered box office records worldwide and thrilled audiences of all ages with a mind-blowing spectacular showcasing the jaw-dropping talents of five of the most incredible illusionists on earth.
Creative Producer Simon Painter said, "We can't wait to bring this electrifying show to cities in North America for a truly entertaining experience for the whole family. THE ILLUSIONISTS is the most non-stop and powerful mix of outrageous and astonishing acts ever to be seen on the live stage."
---
SIMON PAINTER, CREATIVE PRODUCER
Simon Painter is a visionary creative theatrical producer who hails from London. Simon started his career on stage as a classical violinist, and performed the lead role for Spirit of the Dance in Las Vegas. The first show he produced, Le Grand Cirque smashed box office records at the Sydney Opera House selling over 40,000 tickets in 10 days. His two subsequent productions, Aerial Dreams and Adrenaline also broke records in Sydney and across the world and achieved critical acclaim. In 2010 Simon had five versions of Le Grand Cirque playing concurrently. In late 2010 Simon joined forces with Australian producer and close friend Tim Lawson and began assembling the greatest magical minds from a wide spectrum of disciplines. His production of The Illusionists has already performed to record breaking crowds in theatres and arenas across the globe including Australia, Mexico, Latin America, South America, Europe, Asia and the Middle East. In addition to The Illusionists: LIVE FROM BROADWAY, Simon's current projects include Le Noir (The Dark Side of Cirque) and Illusionists 2.0, both of which are currently playing extensive international tours.
TIM LAWSON, EXECUTIVE PRODUCER
Tim Lawson is the CEO of TML Enterprises, servicing Australia and international territories with first class musicals and family entertainment with productions spanning across over 100 cities in 20 countries. Australasian theatrical touring credits include Sweet Charity, Buddy – The Musical, Jolson starring Rob Guest, Spirit of the Dance, Oh! What A Night, Fiddler on the Roof starring Topol, It's A Dad Thing!, Weary – The Life of Sir Edward Dunlop, Shout! The Musical, Brave Men Run In Our Family, Jekyll and Hyde starring Brad Little and The Rocky Horror Show narrated by Richard O' Brien. Tim's award winning production of A Chorus Line transferred to the prestigious London Palladium, and his production of Chitty Chitty Bang Bang recently completed a 13 month tour. With partner Simon Painter, credits include Le Grand Cirque, Ariel Dreams, Adrenaline, Le Noir – The Dark Side of Cirque, The Illusionists and The Illusionists 2.0, all enjoying record breaking success and extensive international arena and theatrical touring.
MAGICSPACE ENTERTAINMENT, PRODUCER
MagicSpace Entertainment is headed by Lee D. Marshall, Joe Marsh, John Ballard, Steve Boulay and Bruce Granath and has been producing and presenting national tours, Broadway shows, concerts and museum exhibits worldwide for over 35 years. Consistently one of the top promoters in the world, MagicSpace Entertainment typically produces and presents more than 350 events worldwide per year. Recent Broadway credits include The Illusionists - Witness the Impossible (Broadway & West End), Donny & Marie – A Broadway Christmas, American Idiot and RAIN - A Tribute To The Beatles On Broadway. National tour credits include The Illusionists – Live From Broadway, Lord of the Dance created by Michael Flatley, Jamie Hyneman and Adam Savage starring in Mythbusters - Unleashed, Alton Brown Live, Mannheim Steamroller Christmas by Chip Davis, Donny & Marie Christmas, RAIN – A Tribute to the Beatles, The Magic of David Copperfield, Circus 1903 – The Golden Age of Circus, Jesus Christ Superstar, A Chorus Line and national concert tours by Janet Jackson, Cher and Fleetwood Mac to name just a few. Touring museum exhibitions produced include Jurassic World: The Exhibition, Tutankhamun and the Golden Age of the Pharaohs exhibition, Titanic: The Exhibition and Diana – A Celebration, St Peter and the Vatican: The Legacy of the Popes exhibition. MagicSpace Entertainment has offices in Park City and Salt Lake City, UT. www.magicspace.net http://www.theillusionistslive.com/
---
About Spectra
Spectra by Comcast Spectacor is an industry leader in hosting and entertainment, partnering with clients to create memorable experiences for millions of visitors every year. Spectra's unmatched blend of integrated services delivers incremental value for clients through several primary areas of expertise: Venue Management, Food Services & Hospitality, and Partnerships. Learn more at SpectraExperiences.com.
About Comcast Spectacor
Comcast Spectacor is part of Comcast Corporation, a global media and technology company that operates Comcast Cable and NBCUniversal. Comcast Spectacor's three core businesses are the National Hockey League's Philadelphia Flyers, the Wells Fargo Center Complex, and Spectra, a hosting and entertainment firm specializing in Venue Management, Food Services & Hospitality, and Partnerships. Learn more at ComcastSpectacor.com.
View All News