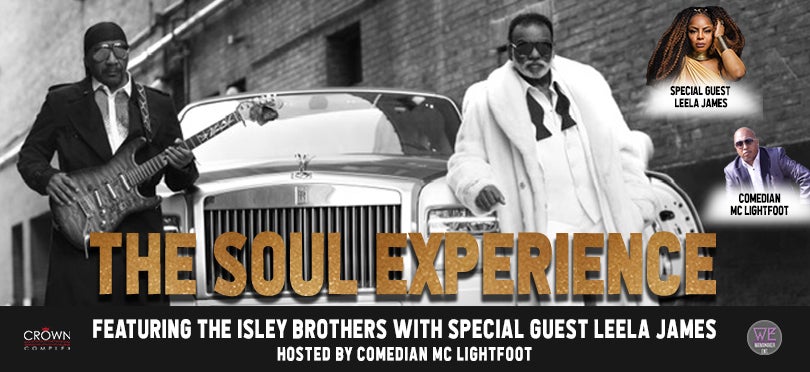 Jun 14, 2021
The Soul Experience Featuring the Isley Brothers
With Special Guest Leela James
GRAMMY® winning and Rock and Roll Hall of Fame inductees The Isley Brothers are live and on tour performing at the Crown Coliseum in Fayetteville, NC with special guest Leela James, hosted by MC Lightfoot on Sunday, September 12, 2021 at 7:30pm! The Soul Experience is being presented by Wanamaker Entertainment.
Tickets go on sale Friday, June 18, 2021 at 10:00am and can be purchased at the Crown Complex Box Office, at Leisure Travel Services on Fort Bragg, and online at CapeFearTix.com.
With more than 18 million records sold, The Isley Brothers are among the few groups to be on the Billboard Hot 100 with new music in five different decades with producing 14 Billboard Top 100 singles. Over the course of their over 6 decade run, The Isley Brothers achieved multiple milestones as Rock and Roll Hall of Fame, Vocal Group Hall of Fame, and ultimately receiving the Grammy Lifetime Achievement Award in 2014. Since the release of one of their most renown hits "Shout" in 1959 and "Twist and Shout" in 1962 the Isley Brothers continue to keep the flame alive. In 2017, they released Power of Peace, an album in collaboration with legendary guitarist Santana. Most recently on April 4, 2021, The Isley Brothers battled Earth, Wind, and Fire on VERZUZ, a webcast series created by producers Timbaland and Swizz Beatz, that airs on Verzuz TV. The two legendary bands came together for an incredible night of music that saw The Isley Brothers come out on top.

Leela James is an R&B powerhouse singer/songwriter who first burst onto the scene with her 2006 debut album A Change is Gonna Come, introducing audiences to her soaring sultry vocal dexterity. She quickly garnered nominations for Outstanding New Artist at the NAACP Image Awards and Best R&B/Soul or Rap New Artist of 2008 at the Soul Train Music Awards. James has gone on to record five subsequent albums including My Soul, which reached #7 on the Billboard Hot R&B/Hip Hop Albums Chart the song "Don't Want You Back" which rose to #1 on the Billboard Adult R&B chart. Leela has earned much acclaim from critics for her performance and songwriting skills. Her latest single "Complicated" is a catchy, mid-tempo story that reflects James' lyrical journey and musical excellence. She is currently in the studio putting the finishing touches on her new project out this summer.
Born and raised in Atlanta, Georgia, Comedian MC Lightfoot brings over twenty years' experience in live entertainment. He is one of the most demanded MC for concerts and award shows and is sure to keep an audience on edge and lively for any show!
View All News