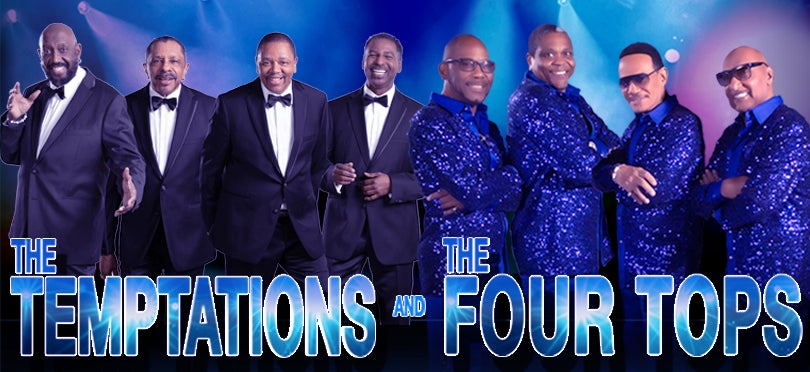 Jan 14, 2020
The Temptations and The Four Tops
Community Concerts brings the Temptations and the Four Tops to Fayetteville!
Fayetteville, NC (January 10, 2020) – The Temptations and the Four Tops will be back together again as a part of the Community Concert's 84th Season! In May of 1983, the televised anniversary special Motown 25: Yesterday, Today, Forever, aired on NBC-TV and the extraordinary battle between the Temptations and the Four Tops lead to a road tour of the two groups, famously called the "T'NT" tour. The two legendary groups still perform together today while on their respective concert tours. We are excited to announce that they are making a stop in Fayetteville, NC at the Crown Theatre on Friday, March 6, 2020!
Tickets are on sale now and can be purchased online at CapeFearTix.com, by phone at (888) 257-6208, in-person at the Crown Complex Box Office or at Leisure Travel Services on Fort Bragg. "Get ready for a double header night of hits with these Motown legends, Rock and Roll and Grammy Hall of Famers!" says Michael Fleishman, Attractions Director for Community Concerts.
The Temptations, often referred to as "American Music Royalty," are world-renowned superstars of entertainment, revered for their phenomenal catalog of music, and prolific career. Named the "#1 R&B/Hip Hop Artists of All Time" and one of the "125 Greatest of All Time Artists" by Billboard Magazine, as well as one of the "100 Greatest Artists of All Time" by Rolling Stone Magazine, the group is truly a beloved "National Treasure." The Temptations are celebrating their 60th Anniversary with an international tour this year and are currently the subject of the smash hit Broadway musical, "Ain't Too Proud: The Life and Times of the Temptations," which won the 2019 Tony Award for Best Choreography. The original cast album for the musical was nominated for a Grammy Award in the "Best Musical Theater Album" category and the Grammy Awards ceremony will be held later this month.
Otis Williams, the sole surviving original Temptation, Ron Tyson, a lead vocalist with the group for 37 years, Terry Weeks, a lead vocalist for 23 years, and Willie Greene, Jr., base vocalist with the group for four years, are still serenading fans with their soulful voices, lighting up stages with their famous Temptations' Walk, and bringing joy to audiences of all ages.

The Four Tops, originally called the Four Aims, made their first single for Chess in 1956, and spent seven years on the road and in nightclubs, singing pop, blues, Broadway, but mostly jazz—four-part harmony jazz. Their first Motown hit, "Baby I Need Your Loving" in 1964, made them stars and their sixties track record on the label is indispensable to any retrospective of the decade. For Rolling Stone's 2004 article "The Immortals – The Greatest Artists of All Time," Smokey Robinson remembered: "They were the best in my neighborhood in Detroit when I was growing up (and) the Four Tops will always be one of the biggest and the best groups ever. Their music is forever."
About Community Concerts
Community Concerts is a volunteer, non-profit arts organization working to make Fayetteville better, one concert at a time. Fayetteville's oldest non-profit arts organization, Community Concerts works diligently to bring Fayetteville the finest in world-class entertainment while keeping prices affordable to all. For more information and to purchase season tickets, please visit
community-concerts.com or call 910-303-3996.
About Spectra Venue Management
Spectra's Venue Management division is the industry leader across a full range of services that impact the bottom-line success of public assembly venues, including marketing and sales, corporate partnerships, event booking, ticket services and box office management, customer service, operations and engineering and finance and administration.
###
Venue Contact:
Ana Dell
Crown Complex
910-438-4117
View All News