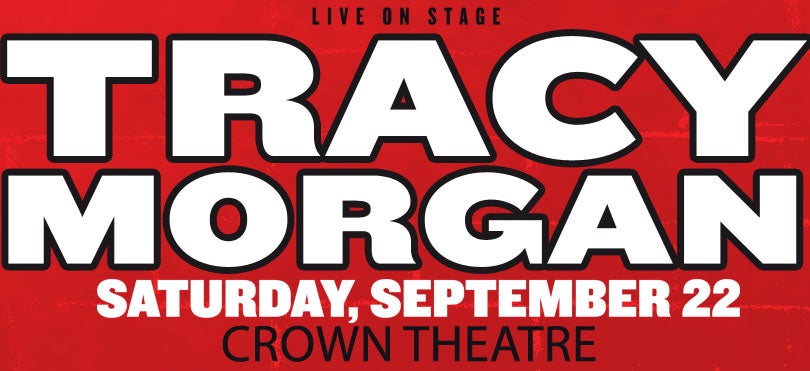 Sep 18, 2018
TRACY MORGAN'S SCHEDULED STOP AT THE CROWN THEATRE CANCELLED DUE TO SEVERE WEATHER
Fayetteville, NC (September 18, 2018) –Due to the effects of Hurricane Florence, Tracy Morgan's scheduled event at the Crown Theatre on Saturday, September 22, has been cancelled.
"We felt it best to allow the Fayetteville community time to focus on relief and recovery in the aftermath of Hurricane Florence. Our prayers are with everyone in Fayetteville and all of those affected by this disaster." – Tracy Morgan
"While we would have loved to have had an incredible performer like Tracy Morgan this weekend at the Crown Theatre, our focus is squarely on our community and supporting the emergency relief efforts at this time. Fayetteville is strong and Fayetteville will persevere," said Jim Grafstrom, General Manager of the Crown Complex.
All refunds for the Tracy Morgan performance will be made at point of purchase. Patrons who purchased tickets with a credit card, inclusive of those purchased at Fort Bragg Leisure Travel Services, will be automatically refunded and will see their money back in their account within 5-7 business days. Any patron who purchased with cash at the Crown Coliseum Box Office will need to bring their valid tickets and photo ID to the Crown Coliseum Box Office during normal business hours, beginning on September 24, to obtain their refund. Cape Fear Valley Health employees who purchased via payroll deduction may also receive a cash refund by visiting the Crown Coliseum Box Office with a photo ID, on or after Monday, September 24.
For more information regarding ticket refunds, please call the Crown Complex ticketing hotline at 1-888-257-6208.
The Crown Complex will continue to serve as a disaster coordination site in the coming days. Multiple agencies from within North Carolina and well beyond are utilizing the expansive campus to coordinate relief and recovery efforts. Our gratitude towards our first responders and our military cannot be put in to words.
Please stay safe everyone!
---
About Spectra
Spectra is an industry leader in hosting and entertainment, partnering with clients to create memorable experiences for millions of visitors every year. Spectra's unmatched blend of integrated services delivers incremental value for clients through several primary areas of expertise: Venue Management, Food Services & Hospitality, and Partnerships. Learn more at SpectraExperiences.com. Follow Spectra on Facebook, Instagram, Twitter and LinkedIn.
About Spectra Venue Management
Spectra's Venue Management division is the industry leader across a full range of services that impact the bottom-line success of public assembly venues, including marketing and sales, corporate partnerships, event booking, ticket services and box office management, customer service, operations and engineering and finance and administration.
View All News