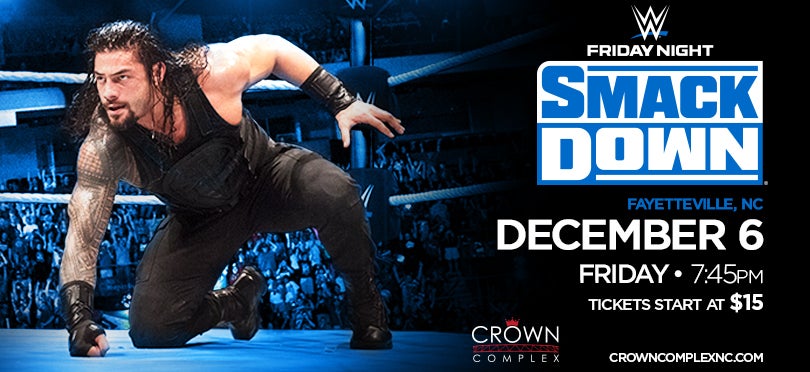 Dec 3, 2019
TRAFFIC AND SECURITY NOTIFICATION FOR WWE FRIDAY NIGHT SMACKDOWNAT
TRAFFIC AND SECURITY NOTIFICATION FOR WWE FRIDAY NIGHT
SMACKDOWNAT THE CROWN COMPLEX ON FRIDAY, DECEMBER 6
FAYETTEVILLE, N.C. – The Crown Complex is pleased to announce that WWE Friday Night Smackdown will be live in Fayetteville, NC on Friday, December 6 at 7:45 p.m. Due to the large volume of patrons expected for the event, the following traffic and security plan will be implemented.
The general parking facilities will open to the public beginning at 3:00 p.m. Parking is first-come-first-serve; there is no fee for parking at the venue. Vehicles parked in areas not under the jurisdiction of the Crown Complex may be subject to tow.
Doors to the Crown Coliseum are scheduled to open 90 minutes prior to the event at 6:15 p.m. There will be enhanced precautionary measures, including security checks at the gates that may cause delays in entering the facility. As such, patrons are encouraged to arrive early in order to expedite the entry process.
Venue parking lots open at 3:00 p.m., please follow the direction of on-site traffic control.
Immediately following the event:
Patrons are asked to follow the direction of Crown Complex parking attendants and the Fayetteville Police Department to ensure a safe and speedy departure.
Traffic exiting on to Owen Drive will be directed toward either Business 95/Highway 301 or NC Highway 87. Signage will be used to direct traffic back into Fayetteville.
There are NO U-Turns allowed on this road.
Traffic directed on to East Mountain Drive will be allowed to continue to West Mountain Drive or turn Southbound onto Business 95/Highway 301.
No traffic will be allowed to turn Northbound onto Business 95/Highway 301 from East Mountain Drive.
The following items are prohibited and not limited to the following at all WWE events:
Bags and Briefcases
Backpacks Women's purses: Small clutch bags are allowed

Backpacks, purses larger than 14 x 14 x 6 or any other large bag will not be permitted. There will not be any exceptions.

Video Cameras or Recording Devices
Laser Pointers or Noise Makers
Weapons of any kind
Alcoholic Beverages, Illegal Drugs or Paraphernalia
Selfie Sticks
Lap Top Computers or Tablets
Coolers
Luggage of any kind
Camera Bags
Masks (Only WWE brand masks will be permitted)
All guests entering the venue will be subject to metal detector, or hand held wand screening and bag check.
Contact our main office at 910-438-4121 for more information if needed.
###
About Spectra Venue Management
Spectra's Venue Management division is the industry leader across a full range of services that impact the bottom-line success of public assembly venues, including marketing and sales, corporate partnerships, event booking, ticket services and box office management, customer service, operations and engineering and finance and administration.
# # #
Contact:
Daniel Marsh
Director of Marketing | Crown Complex
910-438-4121 | Daniel.Marsh@spectraxp.com
View All News