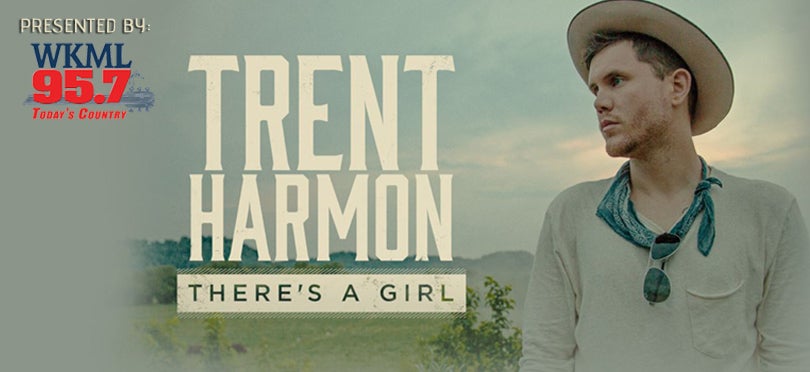 Aug 24, 2016
Trent Harmon to headline Country Night at the Cumberland County Fair September 16
Country singer-songwriter and American Idol season fifteen winner Trent Harmon will headline Country Night on the Up and Coming Weekly Entertainment Stage at the Cumberland County Fair on Friday, September 16 at 7:00 p.m. in partnership with Beasley Broadcasting's 95.7 WKML.
Admission tickets to the 2016 Cumberland County Fair are $7 and include access to Trent Harmon's performance on the outdoor entertainment stage located on the midway.
Trent Harmon's soulful vocal delivery and natural stage presence shot him to the top of the pack on American Idol, earning him a first place finish on the final season of American Idol this past spring. Following American Idol, Harmon signed with Big Machine Records where his first single, written by Keith Urban and performed on the American Idol finale, hit the Billboard Hot 100. In July, Harmon released his second single, "There's a Girl," which debuted at number 64 and has risen to crack the top 50.
Trent Harmon's performance is one of many upgrades the Cumberland County Fair is making for its patrons in 2016. In July, it was announced that the fair had signed Big Rock Amusements as its new carnival provider after cutting ties with Hildebrand Rides in 2015. Big Rock Amusements is recognized as one of the leading carnival companies in the country, to provide fairgoers enhance games, concessions and a higher volume of state-of-the-art attractions with upgraded equipment.
Additionally, the fair will be offering a variety of daily specials to appeal to a variety of patrons. A complete listing of specials and additional entertainment can be found at www.CumberlandCountyFair.org.
The 26th Annual Cumberland County Fair is scheduled for September 9 – 18 at the Crown Complex in Fayetteville, NC. Tickets are on sale now online at www.CapeFearTix.com, by phone at 888-257-6208 and in person at the Crown Complex Box Office. Additional service charges and fees may apply. Unlimited ride wristbands and ride tickets sold separately.
ABOUT CUMBERLAND COUNTY FAIR:
The Cumberland County Fair seeks to provide an opportunity to showcase and preserve the history and legacy of the agricultural communities in Cumberland County; to celebrate the diversity of local arts and crafts; to promote a safe setting for fun, healthy family entertainment featuring music, motorsports and animals; and to encourage an environment of friendly competition for all ages. For more information, please visit www.CumberlandCountyFair.org.
View All News