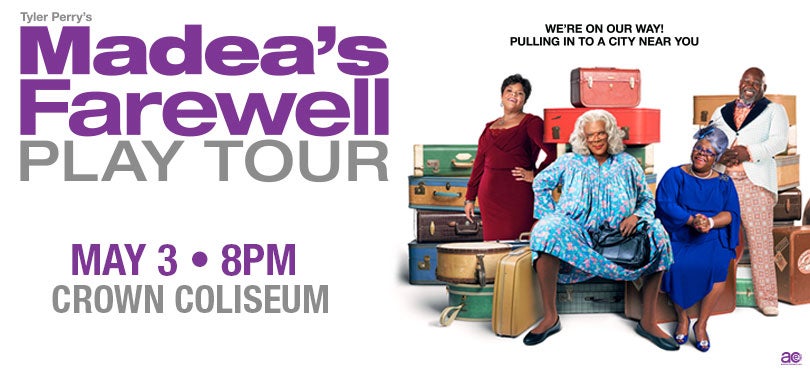 Dec 17, 2018
Tyler Perry's Madea's Farewell Play Tour Coming to Fayetteville!
Tyler Perry's Madea's Farewell Play Tour with Tyler Perry, Tamela Mann, David Mann and Cassi Davis Patton will be live at the Crown Coliseum on Friday, May 3!
Tickets go on sale Friday, December 21 at 10:00 a.m. and can be purchased online at CapeFearTix.com, by phone at (888) 257-6208, in-person at the Crown Complex Box Office or at Leisure Travel Services on Fort Bragg.
Tyler Perry will bring the family back together one last time for "A Madea Family Funeral" which is set to be released on March 1st. The film, shot in partnership with Lionsgate, is sure to have scores of hilarious moments for fans to enjoy one last laugh with the woman who delivered so many over the years. This final Madea film concludes a perfect set of 10 movies that have stared Perry as what he describes as "…exactly the PG version of my mother and my aunt."
But if seeing the Simmons family in the flesh is also your thing then you're in luck! Perry will be hitting the road in what is being billed as "Madea's Farewell Play Tour" which will take over the Crown Coliseum on Friday, May 3.
Tyler Perry's "Madea's Farewell Play Tour" will be Perry's 21st stage play. The play will also star Tamela Mann, David Mann, and Cassi Davis Patton.
About Tyler Perry
Tyler Perry's inspirational journey from the hard streets of New Orleans to the heights of Hollywood's A-list is the stuff of American legend. Born into poverty and raised in a household scarred by abuse, Perry fought from a young age to find the strength, faith and perseverance that would later form the foundations of his much-acclaimed plays, films, books and shows.
In the fall of 2008, Perry opened his 200,000 square foot Studio in Atlanta, situated on the former Delta Airlines campus in the Greenbriar area of southwest Atlanta. During the course of its operation, the space was home to production of over 15 films and over 800 episodes of Perry's five television series.
Tyler Perry practices what he preaches, and what he preaches has endeared him to millions of fans drawn by that unique blend of spiritual hope and down-home humor that continues to shape his inspiring life story and extraordinary body of work
View All News