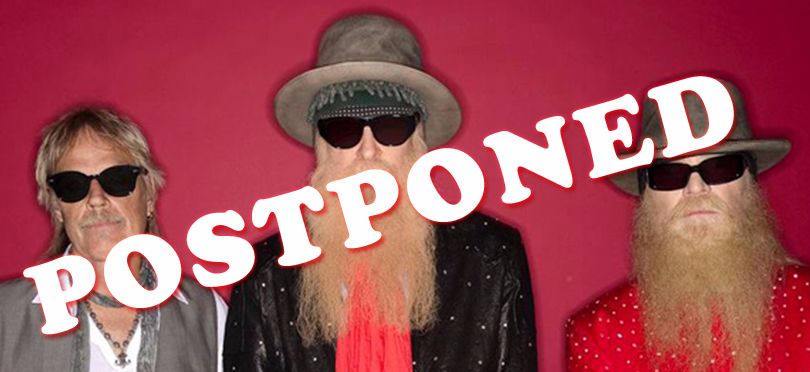 Oct 17, 2017
ZZ TOP TOUR POSTPONED
(FAYETTEVILLE, NC) – Upcoming scheduled dates on ZZ Top's current Tonnage Tour, including the season opener of Community Concerts of Fayetteville this Friday, October 20 at Crown Theatre, are temporarily suspended and are in the process of being arranged for immediate rescheduling.
ZZ's cornerstone bass-guitarist, Mr. Dusty Hill, is addressing a tummy ailment and is following directive to lay low for the next few weeks. Whew!
We are grateful for your prayers for Mr. Dusty Hill and his family and look forward to seeing ZZ Top back out on the road very soon!
Stay tuned for a new date announcement for this show at the Crown Theatre.
"While we were looking forward to our season-opening concert, as were our many Community Concerts season subscribers and ticket-holders, our first concern is Dusty Hill and his speedy recovery," said Michael Fleishman, attractions director for Community Concerts. "The ZZ Top concert is postponed, not canceled, and we are confident ZZ Top will reschedule and be a part of our 82nd season. This is a legendary American rock band, and along with Spectra Venue Management and The Crown Complex, we could not have been more excited to bring these talented musicians to this community. While we know ZZ Top fans may be disappointed in the postponement, we know, too, they join us in wishing only the best for Dusty Hill."
All previously purchased tickets for this concert will be honored for the new date when announced. For those patrons who seek a refund, please contact your point of purchase before Friday, October 20. Refunds will only be permitted before October 20 and only at your point of purchase.
We are sorry for any inconvenience this may have caused.
For more details, go to www.zztop.com.
View All News