Leanne Morgan: Just Getting Started
Apr. 26
Crown Complex
7:00 pm
Starting at $42.75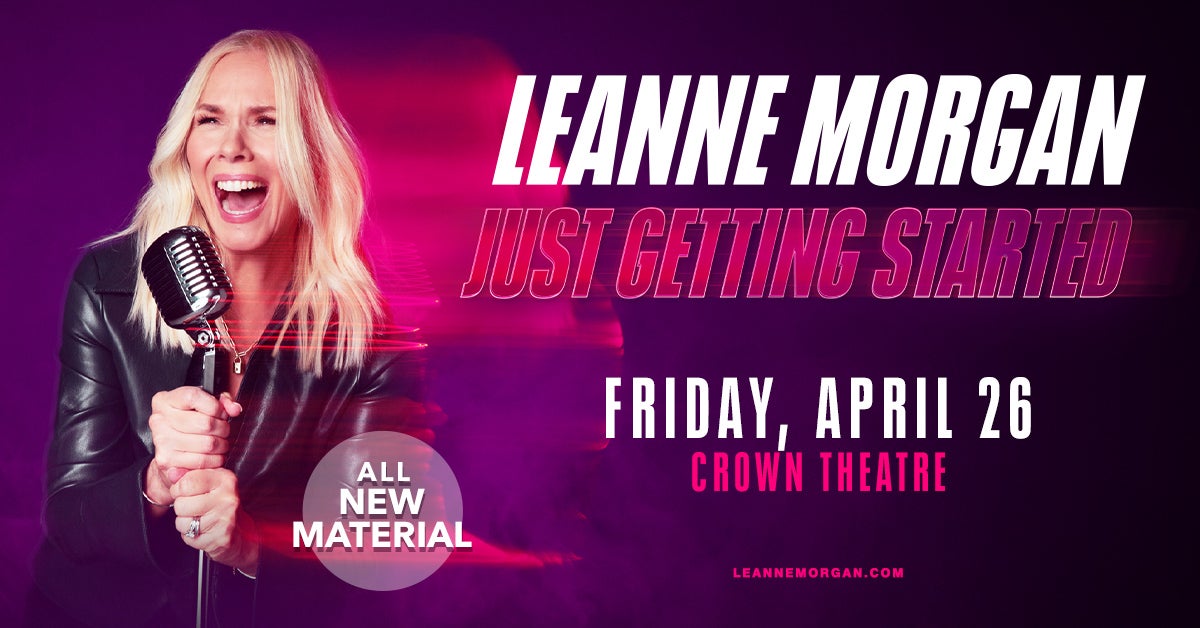 Leanne Morgan, will perform at the Crown Theatre in Fayetteville, NC on April 26, 2024 as a part of her "Just Getting Started" tour.
Leanne Morgan has taken the world by storm and her national headlining tour is, "Just Getting Started!" Following the breakout ratings success of her critically acclaimed Netflix special, I'm Every Woman, Morgan has sold out over 100 theater and arena shows across the United States – with often second, third, fourth and fifth shows added in major markets. In an effort for more of her fans to have the chance to experience her hit show, Morgan is extending her theatre and arena tour into 2024 by adding 27 shows in new markets across the United States.
"At the pace these new shows are being added, I'm going to run out of spray tanner by January!" exclaims Morgan. "I named my second tour "Just Getting Started" because I'm a 58-year-old mother and grandmother that's having the time of my life! This is a dream come true! I truly feel like I am in the prime of my life. I've had the honor to perform this new hour to 100 shows across this great country performing in front of both new and returning fans who feel like my best friends. All of this has truly blossomed into such a precious and supportive community! I'll continue sharing more stories of my real life, my family and my experiences and I hope people will still come away from this new hour saying, 'this is my life- is Leanne spying on me??'"
Much of the fanfare can be attributed to an act that resonates with men and women of all ages from all walks of life around world. A respite for those exhausted by an entertainment landscape that often celebrates youth over substance, Morgan is a shining example that life is meaningful and vibrant at any age and with age comes wisdom and a wicked sense of humor.
In her first six months on the new tour, Morgan performed for packed crowds with over 100K tickets sold. She performed two sold out arena shows in her hometown of Knoxville, TN where she sold 13,000 tickets at the Knoxville Civic Coliseum. In Nashville, Morgan sold out the historic Ryman Auditorium twice, and sold-out the legendary Grand Ole Opry House as well. In Atlanta, she sold out the historic Fox Theater twice with 10,000 tickets sold, and both of her upcoming shows at the Smart Financial arena in Sugarland, TX will hit sell out with over 12,000 sold.
Her self-produced and financed special, 'Leanne Morgan: I'm Every Woman,' placed in the Top 10 on Netflix and is one of the highest rated specials on the platform this year. With this heat behind her, Variety named Leanne Morgan one of the Top 10 Comics to Watch for 2023 and she was named to the Forbes 50 over 50 list. Morgan has also been featured in and made appearances on the Today Show, The Kelly Clarkson Show, PBS NewsHour, Sherri, The Washington Post, People Magazine, NPR Fresh Air, Christianity Today, AARP, Forbes Magazine, The Wall Street Journal, The Atlanta Journal-Constitution, and countless others.
A triple threat, Morgan has also added actress and author to her repertoire. She stars opposite Reese Witherspoon and Will Ferrell in the upcoming comedy feature film "You're Cordially Invited", which recently wrapped production and will be released in 2024. Her highly anticipated memoir "What in the World?" (Convergent) also hits shelves in September of 2024.
Read More