SAFETY
The Crown Complex strives to provide each patron with a safe and enjoyable experience from the moment they enter the complex until the time they exit the parking lot at the end of the the night.
All of our VENUE POLICIES are designed with guest and employee safety in mind.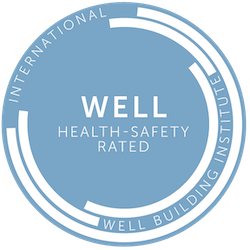 In addition to these policies, the Crown Complex has worked hard to earn the WELL Health-Safety Seal of Approval. This certification endorses the Crown as a venue that prioritizes health and safety of not only visitors but also its staff and other stakeholders. Learn more: HERE
ACCESSIBILITY
Here at the Crown Complex we provide each guest with equal opportunities to enjoy our facilities. All of our entrances have wheelchair access. Our Coliseum, Ballroom and Expo Center all have access to an elevator and escalators. We also provide accessible parking in the front of all our facilities. Service animals are the only animals that allowed to accompany guests to events. For more information about accessibility at the Crown Comples, please call 910.438.4100.
KULTURECITY - FOR GUESTS WHO HAVE SENSORY PROCESSING NEEDS:
The Crown Complex has partnered with KultureCity to improve our ability to assist and accommodate guests with sensory needs. Our objective is to provide an inclusive and seamless experience for all guests for all events including those with sensory needs. We strive to raise awareness of the needs and challenges faced by individuals with sensory processing disorders by supplying our Team Members with continuous training and by offering the resources and accommodations below to our guests. Learn more about the program at the Crown Complex
Sensory Bags
Sensory bags containing special KCVIP badges, fidget tools, noise canceling headphones and other resources are available for checkout (at no cost by leaving an ID) at our Box Office located on our main concourse level.
Weighted Lap Pads
Weighted lap pads are also available upon request (at no cost by leaving an ID) at our Guest Services Kiosk located on our main concourse level.
Social Story and KultureCity All-Inclusive App
Download the KultureCity All-Inclusive App HERE to get your social story to help you further with your visit to the Crown Complex.