Career Opportunities
Spectra Venue Management, one of the leading and best financially resourced private venue management companies in the industry, manages the Crown Complex.
To view all employment opportunities with our organization please visit Comcast-Spectacor Job Board.
~~~~~~~~~~~~~~~~~~~~~~~~~~~~~~~~~~~~~~~~~~~~~~~~~~~~~~~~~~~~~~~~~~~~~~~~~~
FACILITIES MAINTENANCE MANAGER (Click on the position title to apply)
Reports to: Director of Operations
Supervises: Operations Staff
Status: Full-Time; Exempt; Salary
Closing Date: Open until filled
Summary:
Utilizing independent judgment, the Facilities Maintenance Manager supervises and directs the day-to-day contractual operations of the Crown Complex. This employee's primary responsibilities of this position is to provide supervision of all operation's contracted services to include maintenance of the computerized HVAC, plumbing, fire, security, and ice-making systems. The position is to ensure evaluation, identification, and performance of all general facility repairs and serves in a supervisory role and assist in other assigned programs and projects in the Operations Department as needed. This position reports to the Operations Director.
Job Functions:
Directly responsible for overseeing all contracts for maintaining a preventive maintenance program to include all heating, air conditioning,

boilers, chillers, air handlers, air compressors, ice making equipment, HVAC controllers, and security system through daily inspections, work logs and computer analysis. Schedules and makes adjustments, routine repairs or replacements as needed.

Assists with inspections of said systems with outside vendors and contractors. Works closely with County Fire Marshal to ensure compliance with building and facility fire codes. Makes recommendations and repairs as needed.

Consults with manufacturers, representatives, consultants and engineers to maintain knowledge of equipment and procedures.

Ensures that all electrical equipment is up to code and proper federal, state and OSHA safety measures are in place for correct operations.

Directly supervises facilities maintenance employees in accordance with the organization's policies and applicable laws.

Enforce sound safety and housekeeping practices.

Maintain up to date records for all state, federal, and insurance semi-annual and annual inspections.

Work with contractors to facilitate a team-work approach for the completion of a project or project

Contributes to team effort by accomplishing related tasks as needed.
Nonessential Job Functions:
Other duties and responsibilities as assigned.
Qualifications
Bachelor's/Technical degree from an accredited college/university/school preferred.

Forklift certification is preferred

Minimum of two (2) years' experience in facility operations management.

Must show demonstrated knowledge and experience in work crew supervision in facility operations.

Ability to work event nights, weekends and holidays as required.

Ability to follow written instruction, interpret AutoCAD drawings and execute plans.

Knowledge of OSHA requirements.

Candidates must be able to follow orders explicitly, be capable of working as part of a team, and be able to work well with other individuals.

Candidates should be able to work alone if required, and be able to complete tasks up to and including final clean up and putting tools and supplies back to their assigned storage areas.
Note: When you apply for this job online, you will be required to answer the following questions:
Are you a current or former employee of Spectra?

Are you authorized to work in the United States without visa sponsorship?

Are you open to relocation?

Do you live within a daily commutable distance to our location?

Please list your salary requirements.

Do you have a B.S. or B.A. degree from an accredited college/university?

Do you have a minimum of three years of experience in operations related field and management?

Do you have operations director experience?

Are you willing to work nights, weekends, or holidays if necessary?
~~~~~~~~~~~~~~~~~~~~~~~~~~~~~~~~~~~~~~~~~~~~~~~~~~~~~~~~~~~~~~~~~~~~~~~~~~
PART-TIME TICKET SELLER (Click on the position title to request an application)
Reports to: Ticket Office Manager/Assistant Ticket Office Manager
Status: Part-Time; Hourly
Closing Date: Open until filled

ROLE
The Ticket Seller is responsible for selling tickets to the general public, while providing general information to patrons. This is a part-time position that requires the availability to work flexible hours during events, evenings, weekends, and some week days.
Selling tickets to the general public
Assist patrons at the Box Office Will-Call window and resolve all issues/problems
Create exceptional experience for all guests through a safe, clean, and friendly environment
Answer questions regarding events, tickets and schedules
Reconcile money received
Balance monies at end of shift with supervisor
Assist with the restocking of Box Office supplies
Follow all operational policies and procedures for Box Office operations and Global Spectrum
All other duties as assigned by supervisors.
REQUIRED QUALIFICATIONS
Demonstrated customer service skills with the aptitude to resolve conflicts
Effective communication skills, both written and oral.
Candidates must be computer literate and have experience with Office equipment: copier, computer/keyboard, telephone, fax and printers
Reliable transportation to and from work
High school diploma or a general education degree
Ability to work non-standard work hours with variable schedule, to include weekends.
Position requires the ability to stand for extended periods of time, stand, walk, reach with hands and arms, talk and hear, use hands to reach and handle tickets, money, receipts, and the ability to lift and/or move up to 25 pounds
DESIRED QUALIFICATIONS
1-2 years prior experience cash handling and strong math aptitude
~~~~~~~~~~~~~~~~~~~~~~~~~~~~~~~~~~~~~~~~~~~~~~~~~~~~~~~~~~~~~~~~~~~~~~~~~~
SPECTRA IS AN EQUAL OPPORTUNITY EMPLOYMENT EMPLOYER
---
SPECTRA FOOD SERVICES & HOSPITALITY
FUNDRAISING OPPORTUNITIES: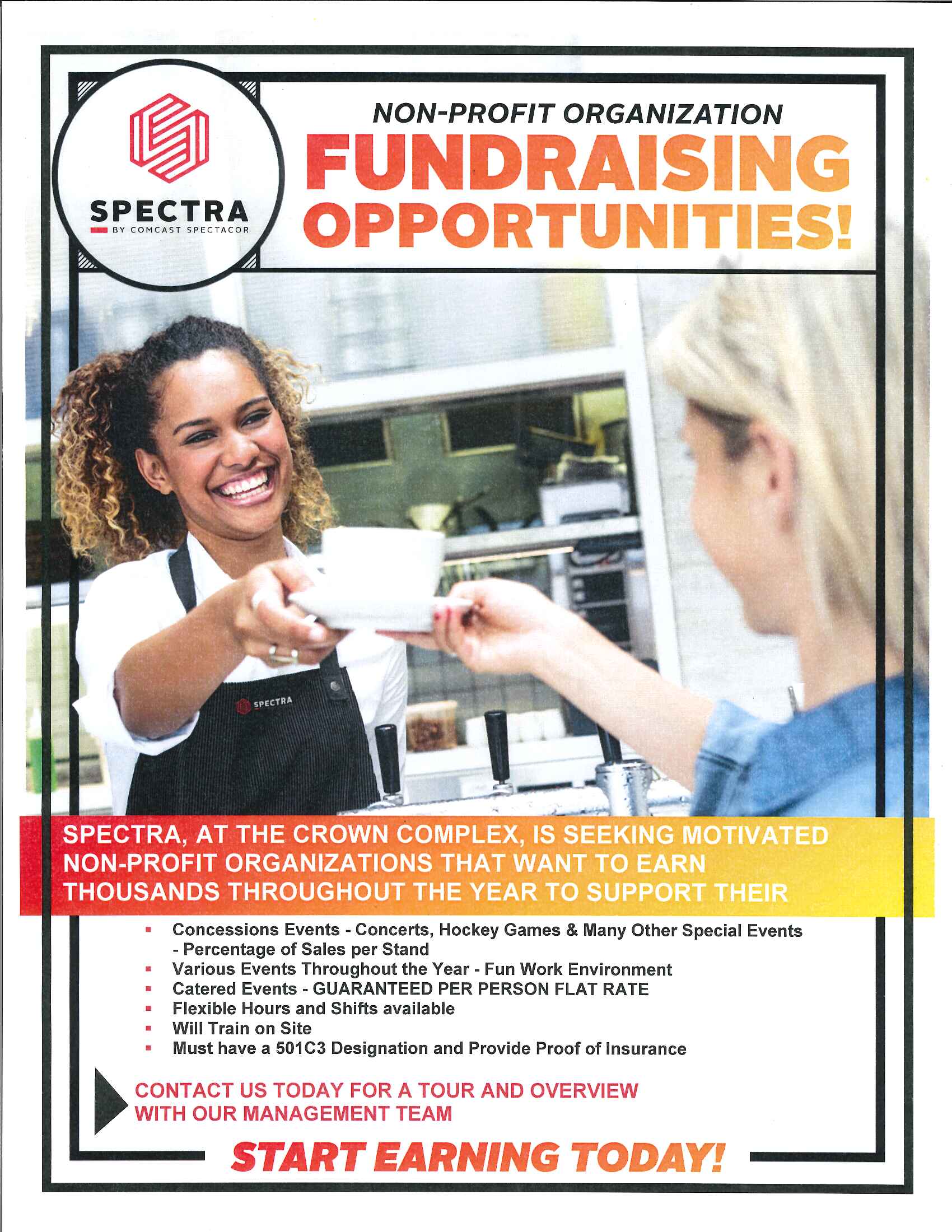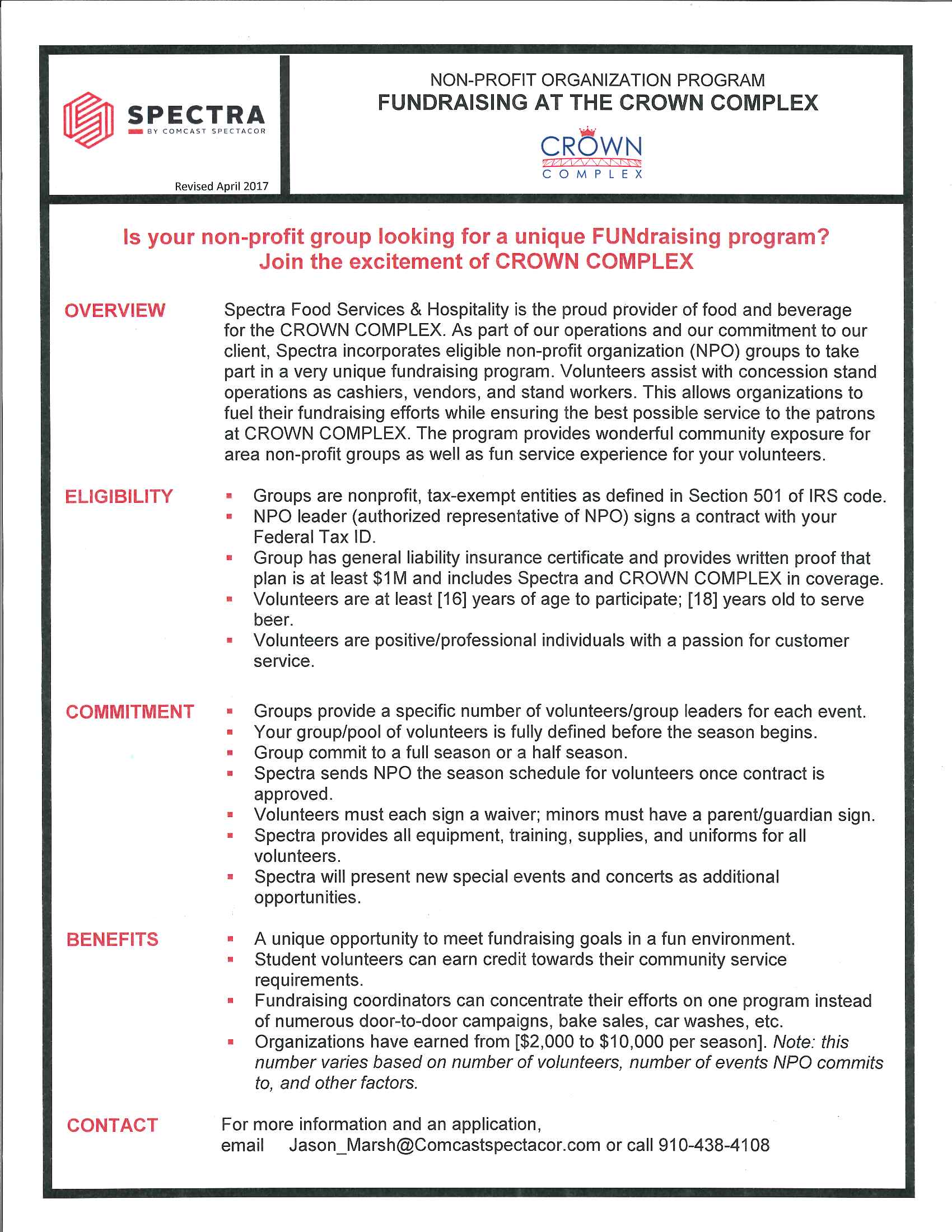 AN EQUAL OPPORTUNITY EMPLOYMENT EMPLOYER